How Do You Build Toughness and Togetherness in the Preseason?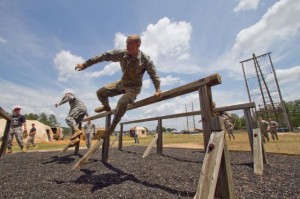 In episode 13 of the CBW Podcast, we interviewed UNCW Head Coach Buzz Peterson.  One thing Coach Peterson talked about was using former military personnel to train his basketball team this offseason- especially for the team building and leadership development factors. (If you didn't hear the podcast you can click here to hear it for free)
I have heard of quite a few teams in several sports using similar methods, but Duke is taking it another level this year by going to an active military base on Oct. 15th. They will be traveling about an hour and a half from their campus in Durham to the home of the U.S. Army Airborne and Special Forces at Ft. Bragg near Fayetteville, NC.  Ft. Bragg is one of the largest U.S. military facilities in the world.  My grandfather was stationed there in the 1930's!  Many things have changed since then (they took artillery from Ft. Bragg to Mississippi by mule!), but the discipline and dedication have not.
"It will be a unique experience for our guys to go through PT and the obstacle courses. We are looking forward to the training session as well as practicing in front of the military personnel." -Coach K
According to their website, "Duke will participate in morning formations, flag raising and physical training along with roughly 20 soldiers from the base. The PT session will include a stretch, push-ups, sit-ups as well as a two-mile run and will be led by a sergeant major from Fort Bragg. The team also will tackle a pair of obstacle course on the base prior to holding an afternoon practice at Funk Gym."  For the entire story on Duke's trip from the university please click here.
I have always admired our soldiers, but the families make huge sacrifices as well.  Check out this 2:37 video from the US Army about Army families by clicking here.
Thank you to all who have, are, and will serve our country!
When I was coaching high school basketball I was always jealous of how our football team could go away to camps right before their season, but we would not even get our entire basketball team until our games had already started. I would love to hear from you- What do you in the preseason (the time period before games start) to develop toughness and togetherness in your team? Leave a comment or email me and let's all share our knowledge and experience with each other.
Until next time, Coach 'em up!
Hal Wilson
After coaching and working with basketball teams at the college and high school level in a variety of roles for 18 years, I have returned to graduate school to finish my Ph.D. in Kinesiology. This www.CoachingBasketballWisely.com website is a way to share the coaching tips, strategies, and techniques gathered in a career in coaching. See more on my background info on me here. Please sign up for our free newsletter at the top right of the page and l would really appreciate it if you would leave our podcast a rating on iTunes here.
If you like what we do PLEASE leave us a rating on iTunes & sign up for our free newsletter at the top right.
For the best

Basketball Coaching Videos

& DVD's from Coach K please click my affiliate link below:
For the best

Basketball Coaching Books

from Coach K please click my affiliate links below:
Click a Button to Subscribe to the CBW Podcast: