Question:

Do you ever have trouble getting through to your players?
Answer:

Inspire and motivate players with our 60 page

Inspirational Quotes for Sports Coaches- 18th Edition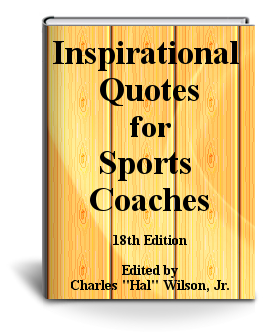 (Once your click the link above pages 1-4 of this 60 page ebook should automatically download.
Please check your downloads folder.)
Like what you see? You can buy it now for only $19.99 by clicking the "Add to Cart" button below
Question:

Who uses quotes to motivate players?
Answer:

Here are two examples from coaches that won
NBA, NCAA, and Olympic Championships:

Doc Rivers

won an NBA Championship with the Boston Celtics and is now the Head Coach of the Los Angeles Clippers. ESPN reported that when the Celtics were in the midst of a losing streak he would slide motivational quotes under the doors of his players on road trips (ESPN, June 24, 2013).

Two-time NCAA & Olympic Champion

Dean Smith

included

a daily "Thought of the Day" with motivational quotes on his practice plan on his way to retiring as the NCAA's all-time wins leader in college basketball.
Question:

Why would buy this when I can get quotes from other sources?

Answer:

Save Time & Hassle! Save Money!
Why waste time scouring the internet or books for quotes that will fit your situation right now when I've already done the work for you?
Why waste money buying quote books that are not specifically made for coaches?
This ebook has

60 pages of categorized quotes

collected over the last 18 years of my coaching career!
Save time & money while motivating your players!
Just check out the Table of Contents:
Section I: In Season Thoughts
After a Loss
After a Win
Section II: Off-Season Thoughts
Section III: Alphabetical Topics
Attitude
Conditioning
Confidence
Deep Thoughts
Determination
Discipline
Excellence
Finish
Fundamentals
Goals
Leadership
Life
Motivation
Preparation
Risk
Role Models
Roles
Success
Teamwork
Toughness
Vision
Work
To order, simply click the "Add to Cart"button below to get your copy for only $19.99 right now
Save Time & Money!
Inspire & Motivate Your Players!