For this installment we have decided to focus on local coverage of the 2013 NBA Finals: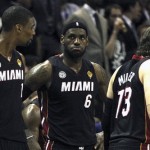 On the other hand, the Spurs Danny Green has had researchers scrambling to explain his historic shooting performance thus far.   (via mysanantonio.com)
Until next time, Coach 'em up!
Hal Wilson
After coaching and working with basketball teams at the college, high school, and youth level in a variety of roles for 18 years, I have returned to finish my Ph.D. in Kinesiology & Sport Studies.  This www.CoachingBasketballWisely.com website is a way to share the coaching tips, strategies, and techniques gathered in a career in coaching.  See more info on me here.
If you like what we do PLEASE leave us a rating on iTunes & sign up for our free newsletter at the top right. 
Click a Button to Subscribe to the CBW Podcast:
                         
Our Coaching Basketball Wisely podcasts are way to help basketball coaches of all experience levels learn how to coach basketball, and how to coach basketball better, faster!  Whether you are a youth basketball coach, a middle school basketball coach, a high school basketball coach, a college basketball coach, or a professional basketball coach we all need to keep learning!  We cover basketball practice tips, basketball recruiting tips, work-life balance, and much more. If there are particular basketball coaching tips or topics that you would like to see covered in future episodes please let us know!!