Nutrition Tips #1
This is the first of a series of posts discussing how to apply nutrition concepts with your team.  I remember when college basketball programs started hiring strength and conditioning coaches.  It was crazy, some said.  Overkill, said others.  Unnecessary and even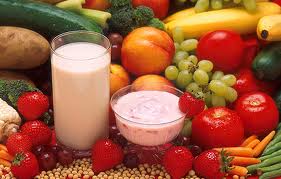 harmful, some cried.  There were also many disagreements between basketball coaches and some strength coaches about what exactly the goals of the strength program should be.  Do we want to bulk up for post play, or not?
Recently, nutrition has become an area that is receiving more and more attention.  Training & Conditioning Magazine ran an interesting article by Jason Gallucci & Victoria Rosenfeld of Princeton University in their April 2012 issue about the rise of sports dietitians in college athletics and how they are working with strength coaches for the good of their athletes.  Gallucci & Rosenfeld put it this way,
"

One of the most important relationships is between the sports dietitian and the strength and conditioning coach. Both positions have the same overall goal: to help athletes perform at their best. And when the sports dietitian and strength coach work together as one team, this goal can be met quickly and easily. This, however, can be easier said than done.

Although they share the same goal, when a sports dietitian is brought in to work side-by-side with the strength coach, it isn't always a seamless transition. The strength coach may feel that their "territory" is being invaded. The dietitian may feel that their knowledge of sports nutrition is being ignored. Here at Princeton University, we quickly learned how to work with each other for the benefit of our student-athletes, and it's brought about some great improvements in performance."
Click here to read their policy on supplements: Princeton Supplement Policy
Click here to read the full article: http://www.training-conditioning.com/2012/04/22/plan_of_attack/index.php
Until next time, Coach 'em up!
Hal Wilson
After coaching and working with basketball teams at the college and high school level in a variety of roles for 18 years, I have returned to finish my Ph.D. in Kinesiology at The University Tennessee.  This www.CoachingBasketballWisely.com website is a way to share the coaching tips, strategies, and techniques gathered in a career in coaching.  See more info on me here.  Please sign up for our free newsletter at the top right of the page.
If you like what we do PLEASE leave us a rating on 

iTunes

 & sign up for our free newsletter at the top right.
Click a Button to Subscribe to the CBW Podcast:
                         
Our Coaching Basketball Wisely podcasts are way to help basketball coaches of all experience levels learn how to coach basketball, and how to coach basketball better, faster!  Whether you are a youth basketball coach, a middle school basketball coach, a high school basketball coach, a college basketball coach, or a professional basketball coach we all need to keep learning!  If there are particular basketball coaching tips or topics that you would like to see covered in future episodes please let us know!!