How do you handle tough situations in the media?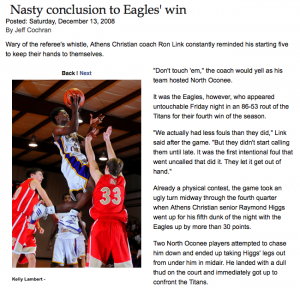 Dealing with the media is a concern for almost every coach. Even at a small town high school I had three local papers and one internet website covering our team. In one situation I had a reporter consistently misquote me- even though I emailed him my quotes! Like any adversity- it's best of you have thought about how you might handle it before it happens. Here are a few situations to consider:

You have a player suspended.
First of all, how do you handle your legal responsibilities? You may not be able to comment on the situation based on legal issues such as FERPA (Family Educational Rights and Privacy Act). This is by no means legal advice, but here is a quote directly from the U.S. Department of Education explaining
"Generally, schools must have written permission from the parent or eligible student in order to release any information from a student's education record. However, FERPA allows schools to disclose those records, without consent, to the following parties or under the following conditions (34 CFR § 99.31):
School officials with legitimate educational interest;
Other schools to which a student is transferring;
Specified officials for audit or evaluation purposes;
Appropriate parties in connection with financial aid to a student;
Organizations conducting certain studies for or on behalf of the school;
Accrediting organizations;
To comply with a judicial order or lawfully issued subpoena;
Appropriate officials in cases of health and safety emergencies; and
State and local authorities, within a juvenile justice system, pursuant to specific State law." -Source: U.S. Department of Education
Controversial officiating
Officiating is a very tough and often thankless job. As part of a research project, I became a certified basketball official for the 2012-'13 season and officiated games from the youth to the high school level. Even though I had played my entire life and have coached for about 18 years, there was so much to learn about being an official, and it is not easy. That being said, there were times as a coach that I was certain that my team was being hindered by either incompetent or unethical officiating. I could share many stories, but most officials are good people who do the best they can. I believe coaches get frustrated because there is little or no recourse when there is a rogue official with an axe to grind. So what do you do after a controversial loss or injury and the reporters ask you about the game? Many of us, and I have been guilty of this, try to speak in code to make our point- such as "we faced a lot of adversity tonight" or "there were a lot of things that were out of our hands tonight" or the more explicit "it's tough to beat 8" (meaning the 5 basketball player and three officials). However, if we vent on the officials in public then it gives our players permission to do the same. We simply cannot hold our players to a higher standard than we are willing to meet ourselves.
Controversial play
In the article I linked to above an unfortunate situation arose. Our opponent was better than us and had outplayed us that night. I had removed my starters and put in our reserves, including a freshman. For whatever reason, our opponent chose to keep their starters in and unfortunately my freshman player who was just trying to hustle, and certainly not hurt anyone, fouled their star foreign transfer player on a breakaway (who by all accounts is a fine young man and a gifted athlete).
This was the only game in my career where an assistant coach on the opposing team taunted our bench during the game. I ran a team camp with over 40 teams for 8 years and only had a problem with the behavior of one of those 40 teams- you guessed it- it was this team. I could go into more details, but I won't. My point for even bringing up what I have here is that I mentioned none of that at the time in the newspaper. The reporter knew what happened- read his description of my quotes. He laughed because he knew he was not going to get anything juicy out of me. I received many positive comments from my team's parents, supporters, and administration in the days that followed for not making the story worse by getting into a mud slinging contest in the press. (I'm sure our opponents had a different perspective on the events of that night!)
Until next time, Coach 'em up!
About the author: After coaching and working with basketball teams at the college, high school, and youth level in a variety of roles for 18 years, I have returned to finish my Ph.D. in Kinesiology & Sport Studies.  This www.CoachingBasketballWisely.com website is a way to share the coaching tips, strategies, and techniques gathered in a career in coaching.  See more info on me here.
If you like what we do please leave us a rating on iTunes &
sign up for our free newsletter at the top right. 
Click a Button to Subscribe to the CBW Podcast:
                         
Our Coaching Basketball Wisely podcasts are way to help basketball coaches of all experience levels learn how to coach basketball, and how to coach basketball better, faster!  Whether you are a youth basketball coach, a middle school basketball coach, a high school basketball coach, a college basketball coach, or a professional basketball coach we all need to keep learning!  We cover basketball practice tips, basketball recruiting tips, work-life balance, and much more. If there are particular basketball coaching tips or topics that you would like to see covered in future episodes please let us know!