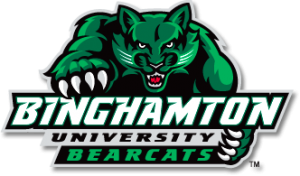 About Binghamton University:
Binghamton University has built a reputation as a world-class institution that combines a broadly interdisciplinary, international education with one of the most vibrant research programs in the nation. Binghamton is proud to be ranked among the elite public universities in the nation for challenging our students academically, not financially. The result is a unique, best-of-both-worlds college experience.
Our academic culture rivals a first-rate private university – rigorous, collaborative and boldly innovative — while our campus culture exemplifies the best kind of public university experience: richly diverse students, active social life and deep engagement with the community.
Our students, both undergraduate and graduate, work one-on-one with an exceptional faculty that includes innovative scientists and groundbreaking scholars. They take advantage of special academic opportunities like combined degrees, foreign language study groups and an unparalleled international education program.
Job Description:
Budget Title:  Division I Head Basketball Coach (RP)
Salary: (SL-6)  commensurate with experience and marketplace
Responsibilities for the successful candidate include directing all aspects of an NCAA Division I women's basketball program including recruiting, budget, team travel, scheduling, practice and skill development, player development, NCAA Compliance and student-athlete welfare.
Requirements:
Bachelor's degree is required; Master's degree is preferred.
Minimum of 1-3 years' NCAA experience is preferred.

Additional Information:
Note: Offers of employment may be contingent upon successful completion of a pre-employment background check and verification of degree(s) and credentials.

Application Instructions:
Persons interested in the above position should apply online.
Please submit:
– Resume
– Cover letter and
– Contact information for three professional references.
The State University of New York is an Equal Opportunity/Affirmative Action Employer.