Podcast: Play in new window | Download
In this episode by basketball coaches for basketball coaches….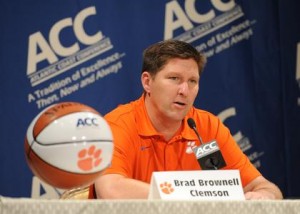 I. An interview with Clemson University Men's Basketball Head Coach Brad Brownell.  Clemson is a NCAA DI school in the Atlantic Coast Conference (ACC).
Click here for a link to Coach Brownell's bio from the Clemson University website.
Among the things we discuss in the interview are…
What he learned from other coaches along the way like his father, Royce Waltman, Jim Crews, & Jerry Wainwright.
Dealing with the different expectations of his three DI jobs.
Using football to his advantage.
Building toughness, unity, and skill development in the preseason.  Giving individual attention in the preseason.
Using "pre-practice" during the season, stretching, then keep tempo high through short drills.
Preparing for opponents during the season.
How he handles the offseason- c. 10 days off then individual meetings focusing on plan to improve in one or two areas.
Recruiting tips for players and his perspective as a college coach (Coachability!) & insights into recruiting at the different locations he's been.
Balancing his personal life and the job- making time for his kids and with his wife.
How he keeps learning and growing as a coach.
Tips for young coaches wanting to get into college coaching (be ready to sleep on a couch!)
II. Today's Tip: The Offensive Big Picture!
Can you describe your offense?  More importantly- can your players?  Here are some key situations your players need to be prepared for…
Post iso (can be for a post or a perimeter player)
Drive iso (can be for a post or a perimeter player)
Need a 3
Vs. extreme ball pressure and/or denying
Vs. traps
Delay game (what shots are allowed?)
Vs. junk defenses (triangle and 2, box & 1, et.c)
Vs. odd front zones (1-2-2, 3-2, 1-3-1)
Vs. even front zones (2-3, 2-1-2)
ALWAYS LOOK FOR PLAYS OR ACTIONS THAT WORK VS. MAN OR ZONE TO SHORTEN TEACHING TIME!!
  If you like what we do PLEASE leave us a rating on iTunes & sign up for our free newsletter at the top right.
For the best Coaching Videos & DVD's from Brad Brownell please click my affiliate link below:
Until next time, Coach 'em up!
Hal Wilson
About the author: After coaching and working with basketball teams at the college, high school, and youth level in a variety of roles for 18 years, I have returned to finish my Ph.D. in Kinesiology & Sport Studies.  This www.CoachingBasketballWisely.com website is a way to share the coaching tips, strategies, and techniques gathered in a career in coaching.  See more info on me here.
Click a Button to Subscribe to the CBW Podcast:
                      
Our Coaching Basketball Wisely podcasts are way to help basketball coaches of all experience levels learn how to coach basketball, and how to coach basketball better, faster!  Whether you are a youth basketball coach, a middle school basketball coach, a high school basketball coach, a college basketball coach, or a professional basketball coach we all need to keep learning!  If there is a particular basketball coaching tip or topic that you would like to see covered in future episodes please let us know!!