Podcast: Play in new window | Download
In this episode by basketball coaches for basketball coaches…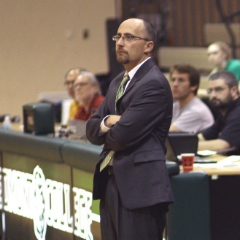 I. An interview with Piedmont College Men's Basketball Head Coach Lee Glenn.
Piedmont is a NCAA DIII school in the GSAC (Gulf South Athletic Conference).  Coach Glenn was named GSAC Coach of the Year last year & is known for his uptempo teams and pressure defense.
Click here for Coach Glenn's bio from the Piedmont College website.
Among the things we discuss in the interview are…
How he got into college coaching.
DIII philosophies and differences from scholarship levels.
Tips for getting recruited at the DIII level.
Balancing his personal life and the job.
Preseason, Inseason, & Postseason ideas for your teams.
Any interview is great where you hear the phrase "Pirate mentality!"
II. The Tip of the Week: Tryouts
Handling cuts: How to tell kids whether they made the team or not.
Why & How to make cuts at basketball tryouts.
Until next time, Coach 'em up!
Hal Wilson
I have been involved in coaching and working with basketball teams at the college and high school level in a variety of roles for 18 years. This www.CoachingBasketballWisely.com website is a way to share the coaching tips, strategies, and techniques gathered in a career in coaching.  See more info on me here.  Please sign up for our free newsletter at the top right of the page.
If you like what we do please leave us a rating on 

iTunes

 &
sign up for our free newsletter at the top right. 
Click a Button to Subscribe to the CBW Podcast:
                         
Our Coaching Basketball Wisely podcasts are way to help basketball coaches of all experience levels learn how to coach basketball, and how to coach basketball better, faster!  Whether you are a youth basketball coach, a middle school basketball coach, a high school basketball coach, a college basketball coach, or a professional basketball coach we all need to keep learning!  If there are particular basketball coaching tips or topics that you would like to see covered in future episodes please let us know!