Keeping Your Team in the Moment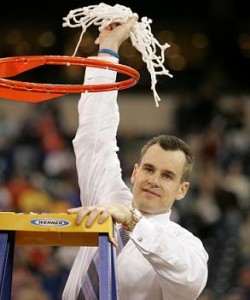 Jeff Borzello recently wrote an article about Florida's big win at Kentucky. In it there is a discussion of handling adversity and I really liked Coach Donovan's comments:
"It's not going to be all smooth sailing," Donovan said. "When it's not smooth sailing, you have to fight through it and stay connected as a group. We're down seven, we can't have one guy thinking about the last shot he missed, and another guy is worried about a call. You have to be able to move on to the next thing and have five guys connected in the face of adversity, fighting to do whatever they need to do on the next possession."
I have great respect for Coach Donovan from having worked in the SEC for three years and seeing the program he has built in Gainesville (we split an SEC Championship with his team in 2000). As you know, his teams also won back-to-back NCAA Championships in 2006 and 2007. Part of my respect for him is that this is a coach who has been successful with teams that were not expected to be the best and also those that were expected to be the best, and he has been successful over a long period of time. Below are four tips based on his comments in the article:
4 Tips for Handling Adversity
Most coaches would tell you that part of good coaching is preparing your team for anything they might face and this includes adversity. Examples of how to do this include through difficult preseason conditioning or by putting a group at a disadvantage in a drill or scrimmage (5 vs 7, or down 10 with 3 minutes, or intentionally making a bad call to see their reaction, or practicing special situations). Then use their response as a teachable moment to talk about handling adversity in the future. One of Pat Summitt's Definite Dozen was to handle success like you handle failure. Many times we overlook the adverse effects of success. Just within one game you will see a team with the lead getting loose with the ball, taking bad shots, and not executing their offense.
2. Stay connected as a group.
Again, most coaches would agree with this, but saying it and doing are two different things. This goes back to the culture you have established in your program and the leadership you have developed. Do not complain that you don't have leadership- intentionally build it in your players!
3. Focus on what you can control (not the officials).
When Gail Goestenkors was the head women's coach at Duke I heard her in a clinic, and she had a great phrase for players: "You show me your role. My job is to explain it to you." Knowing your role as a player can help them to focus on how they can help the team. Now, it didn't always work out this way, but I once had a kid with long arms who wasn't a star for us, but knew he needed to rebound and defend. We were playing a tight game and I called his name to sub in. The opposing team had a free throw to tie the game with a few seconds left. As I walked him to the scorer's table I told him "They are going to miss this free throw, you are going to get the rebound and they are going to have to foul you." Sure enough, they missed it and he go the rebound. After the game he said "Wow, Coach you were right!" and was so righftully proud of doing his job well to help the team win.
4. Focus on short-term achievement (the next possession).
This is something that can be emphasize in your drill work and scrimmages. I remember Doc Rivers, when he was winning the NBA Championship with the Celtics telling his teams to try and get three stops in a row. This was a short term goal that focused his team on the task at hand because you can't get three in a row without getting one.
Let me know if you'd like to share your thoughts via hal@coachingbasketballwisely.com or @coachhalwilson on Twitter.
Until next time, Coach 'em up!
About the author: After coaching and working with basketball teams at the college, high school, and youth level in a variety of roles for 18 years, I have returned to finish my Ph.D. in Kinesiology & Sport Studies. This www.CoachingBasketballWisely.com website is a way to share the coaching tips, strategies, and techniques gathered in a career in coaching. See more info on me here.
If you like what we do please leave us a rating on iTunes &
sign up for our free newsletter at the top right.
Click a Button to Subscribe to the CBW Podcast:

Our Coaching Basketball Wisely podcasts are way to help basketball coaches of all experience levels learn how to coach basketball, and how to coach basketball better, faster! Whether you are a youth basketball coach, a middle school basketball coach, a high school basketball coach, a college basketball coach, or a professional basketball coach we all need to keep learning! We cover basketball practice tips, basketball recruiting tips, work-life balance, and much more. If there are particular basketball coaching tips or topics that you would like to see covered in future episodes please let us know!