As you probably know by now, we believe that coaching basketball is about much more than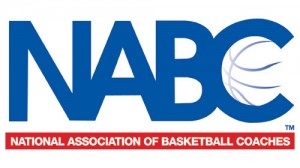 what happens on the court.  We believe that coaches must intentionally strive to help their players improve through the 3 C's: the community, the classroom, and the court.
We applaud the NABC for two of their programs recognizing individual (Honors Court) and team excellence in the classroom.
Recognizes the talents and gifts that these men possess off the court, and the hard work they exhibit in the classroom. In order to be named to the Honors Court, a student-athlete must meet a high standard of academic criteria. Over 700 student-athletes from more than 285 colleges and universities me the qualifications:
1. Academically a junior or senior and a varsity player.
2. Cumulative G.P.A. of 3.2 or higher at the conclusion of the 2012-13 academic year.
3. Students must have matriculated at least one year at their current institution.
4. Member of an NCAA Division I, II, III, or NAIA Division I or II institution.
Created by the NABC Committee on Academics recognize outstanding academic achievement by a team with a cumulative grade point average (GPA) of 3.0 or better for the 2012-13 season. In order to earn a NABC Team Academic Excellence Award, an institution must count the grade point averages of all men's student-athletes competing during the 2012-13 season in NCAA Division I, II, III, and NAIA Division I and II.
How do you emphasize, monitor, and reward academic excellence
in your players on on your teams?